Want to experience a unique activity with family or friends, come and discover mushing in the Vercors, one of the best European spots!
The Vercors plateau is a world-renowned spot for this activity. More than 50 km of slopes are groomed in a grandiose environment !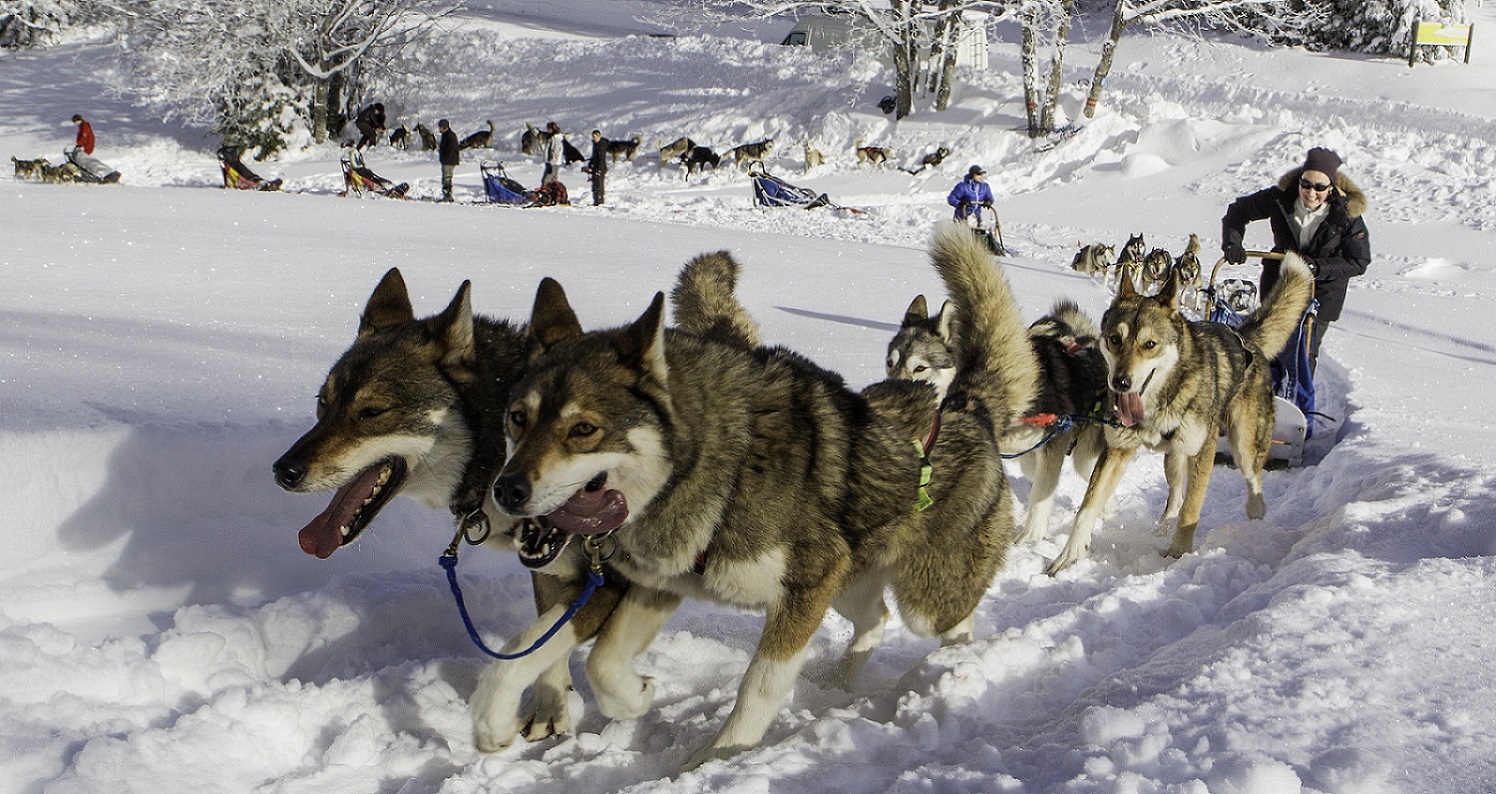 Become the musher you've always dreamed of being!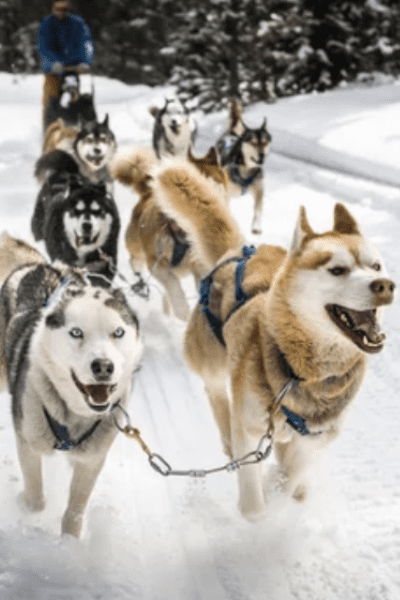 Would you like to have a unique experience? You can choose a simple ride where you sit in the sled or you can take it to the next level and drive the sled with the dogs yourself, by booking with our service providers!
Sled driving is a sporting activity in the wilderness.
The activity is dependent on the snow, so the meeting point can change between our different resorts.
Come and discover this rewarding and exciting activity with your family or friends!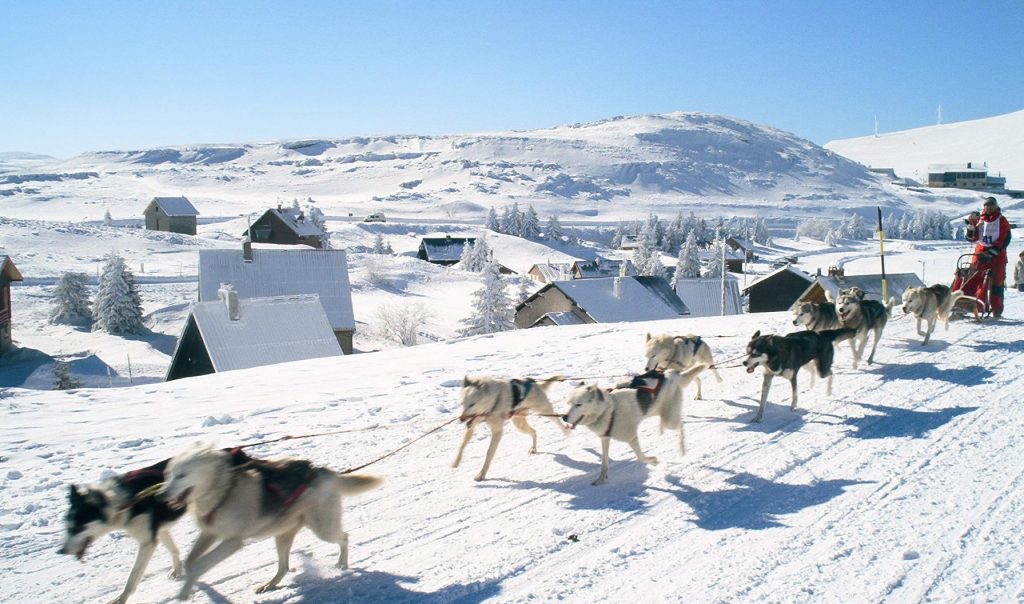 > For a first ride or an introduction to carriage driving:
The different providers
IMPORTANT: The activity of sled dogs is very much in demand, remember to book, contact our providers as soon as possible to guarantee you a place!
Call the mushers listed below.
Some of them propose initiation, others not, check in the description before calling, you will save time. This activity is by reservation only. We advise you to call well in advance as their schedules fill up quickly! The musher will define the meeting place a few days before the activity according to the snow conditions, the weather and the chosen activity.
For more information on each provider, you can discover their website!
Baptism only
Tél. : 06 20 85 19 32
Tél. : 04 75 05 53 25
Tél. : 04 75 48 11 38
Tél. : 06 89 01 20 68
Baptism or driving
> Kiska
Tél. : 06 11 84 43 40/06 83 03 75 54
Tél. : 06 19 07 51 84
Tél. : 06 50 34 36 92
Tél. : 06 60 73 26 70
Tél. : 06 67 60 42 80
Tél. : 07 64 39 05 05
Tél. : 06 13 98 46 79/06 64 29 08 80
Tél. : 06 11 60 30 41/ 07 87 12 64 20
Driving only
Tél. : 06 86 76 77 17/06 83 85 47 80
Access to the "dog sled" tracks
Discover on the map of the Vassieux en Vercors tracks :
-The tracks accessible to dog sledding activity 
-Your meeting place (car park or pass) defined with your musher click here.
Please note that there are no toilets at the meeting point with the mushers. Please take your precautions beforehand.
A special pass is required to use the slopes of our resorts by dog sled:
There are 3 ways to buy this package:
-At the cash desk of the Font d'Urle and Col de Rousset resorts
-From some mushers who can sell you this pass directly
-This pass is also available for sale online (payment by credit card) on this website on the page "buy activities pass". You will get an electronic ticket that you will present to the musher.
Please note: No refunds will be made, please collect your booking fee once the musher has confirmed the trip.
Track access rates 2022/2023
| | |
| --- | --- |
| Individual customer baptism | 6,00 € |
| School and group baptisms (+10 people)              | 3,50 € |
| Initiation to driving a carriage | 11,70 € |
| Driving with carriage 2 days | 18,00 € |
| Driving with carriage 3 days | 23,40 € |
| Driving with carriage 4 days | 29,30 € |
| Driving with carriage 5 days | 35,10 € |
> You have your own carriage
There are many departure sites in the Vercors Drômois, but depending on the snow conditions and your type of practice, you may come across other mushers on the tracks and at the departure points.
IMPORTANT: Please read carefully the information in the following 2 documents before going up in order to choose the right starting point. These documents have been made by the professional mushers of the territory who know the sites well, their advantages and their disadvantages. This will also allow you to know the attitudes to have when you will cross other teams to practice your passion in full safety.
-Guide musher reception
-Sledging tracks (IGN maps)
You must also pay a fee to access the slopes.
This pass is available for sale at the Font d'Urle and Col de Rousset ski resorts, as well as at La Gélinotte in Vassieux-en-Vercors.
NEW: This package is also available online (payment by credit card) by clicking here. You will get an electronic ticket that you can present in case of control.

IMPORTANT: Please respect the different compulsory departure points so that all mountain users can live together as well as possible.  You will find the obligatory starting points symbolised by the Parking symbol on the map of the Vassieux en Vercors/Stade Raphaël Poirée slopes.

Track access rates for mushers 2022/2023 (unless authorised)
| | |
| --- | --- |
| Session/ Hitching                                                       | 18,10 € |
| 2 days/ Carriage driving | 31,50 € |
| 3 days/ Carriage driving | 43,30 € |
| 4 days/ Carriage driving | 55,00 € |
| 5 days/ Carriage driving | 66,70 € |
| 6 days/ Carriage driving | 78,40 € |
| 7 days/ Carriage driving | 90,00 € |
| Annual/ Driving | 146,00 € |